Usa- Pro-Kold Ddc 60- 60″ Wide Deli Case
Usa- Pro-Kold Ddc 60- 60″ Wide Deli Case
Product Code: DDC-60B
Availability:In stock
Have a question?
Stainless steel shelves provide a high end, professional look with a smooth surface that is easy to clean.
Gravity Coil Cooling System provides a properly chilled environment without the use of forced air fans, promoting longevity of the displayed product.
Easy lift front cover allows effortless access to the refrigeration system for routine cleaning and maintenance.
LED lighting contributes to the overall efficiency of the unit, and also provides maximum illumination to the interior of the case.
Product Of USA 
Product Specs
| | |
| --- | --- |
| Width | 56" |
| Depth | 35.80" |
| Height | 50" |
| Horsepower | 1/3 |
| Shelves | 2 |
| Refrigerant Type | R134a |
| Optimum Temperature Range | 36F - 41F |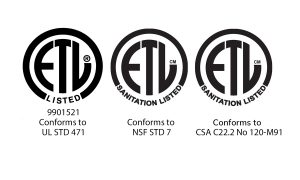 EXTERIOR DIMENSIONS

W: 56", D: 35.8", H: 50"

CAPACITY

21 ft3

SHELVES/LEVELS

2 Rows, 2 Shelves Per Row

COMPRESSOR POWER

1/3 HP

AVAILABLE COLORS

White, Black, Stainless Steel

ACCESSORIES

Bottom, pre-painted grill to cover stainless steel floor for additional display.

WARRANTY

2 Year parts and labor
Additional 3 year compressor coverage

SINCO Canada`s Online Restaurant Equipment Supply Store
Sinco food equipment with over decade of experience in the food service industry, Sinco.ca is ready to be your reliable source for any restaurant equipment and supplies you need. Sinco Food Equipment Canada's leading online restaurant equipment supply store, with thousands of products available, with simple an easy online store. Our Store and warehouse is located in Waterloo, ON Sinco Food Equipment serves across Canada, with competitive pricing and shipping rates. You can shop by industry i.e bakery shop, pizza shop, butcher shop or you can simply choice your needs by clicking our menus. Sinco Food Equipment provides used restaurant equipment, brand new restaurant equipment and have the restaurant equipment leasing options for your needs.The best place to purcahse online restaurant equipment and restaurant supplies in Canada.
Copyright © 2020, Sinco Food Equipment All Rights Reserved.